SloPitch1.com
Updated August 24, 2023
SloPitch1.com is a directory of slo-pitch leagues, teams and tournaments in the greater Toronto /Golden Horseshoe area of Ontario, Canada
including: Toronto, Etobicoke, Mississauga, Brampton, Scarborough, Niagara Falls, etc. with maps to all of the softball diamonds in the GTA;
Toronto, Mississauga, Brampton; from Ajax to the Falls!
Slo-pitch, slowpitch or softball, no matter how you spell it, it's a great game!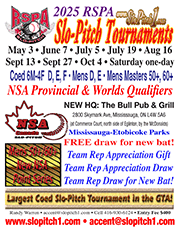 Team Rep Appreciation Gift & Appreciation Draw Free Bat • Free Pitcher • Karaoke Party! • Live Band!
Tournament info is posted at:
Tournament info 230923
• Tournament schedule will be posted at:
Tournament schedule 230923

RSPA Tournament Results Saturday, July 22
Another great day, weather was hot but great, 40 teams.
Vikings beat Off The Chain to win Coed-D; Hit Talkers beat Baes on Balls to win Coed-E1; Old Friends beat Looseballs to win Coed-E2;
Hound Dawgs beat Base Ballaz to win Coed-F1;
Ragnaroks beat Blueberries to win Coed-F2; AVS beat Heavy Rotation to win Mens E; Second Life/Symmetry beat THWR to win Mens D; Markham Canadians beat Aged to Perfection to win Mens 50+; Cobras beat Voodoo to win Mens 60+;
Next RSPA tournament is Saturday, August 19. Here are some photos - click to enlarge.