Updated October 5, 2017
SloPitch1.com is a directory of slo-pitch leagues, teams and tournaments in the greater Toronto /Golden Horseshoe area of Ontario, Canada including: Toronto, Etobicoke, Mississauga, Brampton, Scarborough, Niagara Falls, etc. with maps to all softball diamonds in the GTA; Toronto, Mississauga, Brampton; from Ajax to the Falls!
RSPA Fall Ball Slo-Pitch Tournament
Saturday (one day), November 4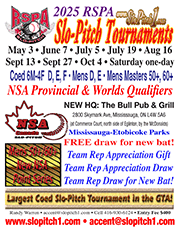 SPN Provincial Qualifiers for 2018

Coed (6M-4F) • Mens • Entry Fee $250
Etobicoke - Headquarters: Diamond Beach
—
map
575 Centennial Park Blvd., Etobicoke Ontario M9C 4V1
Tournament Flyer
--
Tournament F.A.Q.
Randy Warren — e-mail preferred:
accent@slopitch1.com
Cell 416-930-6124
Team Rep Appreciation Gift • Team Draws
RSPA Recreational Slo-Pitch Association
is a non-profit, recreational, coed (7M-3F) slo-pitch league for adults (16+/18+) in the Mississauga and west Toronto/Etobicoke area. RSPA is in its 34th year and is the largest coed league in the GTA with 190 teams in 26 divisions for 2016 and
ALL
the teams make the playoffs! RSPA offers the most coed divisions of any league, with divisions in "Comp", several different levels of "E", Coed "F" and a "Corporate/Fun" division for corporate teams. We are SPN affiliated, fully insured and use SPN carded umpires. A great league, with lots of other activites — Volleyball Night; All-Star Night with home run, base running and other contests and FREE barbecue, and the
BEST
banquet in town!
Looking for new teams and new players for 2017!
- -
www.slopitch1.com/rspa/
May 6-7, June 10-11, July 8-9, August 19-20, Sept 23-24, 2017
Coed (6M-4F) D, E, F; Mens D, E
Mens 35+, 50+ for May 6-7 only.
SPN National & Provincial Qualifiers
Etobicoke-Mississauga
Flyer
Entry Form
F.A.Q.
Map of all Slo-Pitch Parks and Diamonds
Etobicoke, Mississauga, Brampton, Oakville, Hamilton, Scarborough, Markham, Niagara Falls, Ajax, Oshawa, Pickering, Georgetown, Tottenham, Barrie, etc.
GTA Park Maps
Updated February 9, 2016
What's New With SPN
- 2018 National Championship sites.
- SPN Ontario 175 foot rule.
-
Coming soon ...
- 2017 Tournament Awards.
- 2017 Rule changes.
- Can-Am Niagara Tournament.
What's New With SPN
Updated February 18, 2016
Home Run Sports
All your sporting needs.
1855 Dundas St East, Unit 15-16, Mississauga, ON L4X 1M1
map
Diamond Beach Sports
575 Centennial Park Blvd, Etobicoke M9C 4V1 -
map
Slo-Pitch Headquarters
Batting Cages, Volleyball Courts, etc.
Danny Lewicki web site
Check out his book - "From the Coal Docks to the NHL", the story of hockey life in Northern Ontario; Bantam, Midget and Junior; Toronto Marlboros; Toronto Maple Leafs; winning the Stanley Cup; the failed first Players' Association and life in the NHL.