Updated October 22, 2020
SloPitch1.com is a directory of slo-pitch leagues, teams and tournaments in the greater Toronto /Golden Horseshoe area of Ontario, Canada including: Toronto, Etobicoke, Mississauga, Brampton, Scarborough, Niagara Falls, etc. with maps to all softball diamonds in the GTA; Toronto, Mississauga, Brampton; from Ajax to the Falls!
2021 season has to be better than 2020!
Please stay safe in these difficult times!
RSPA Slo-Pitch Tournaments 2021 Tentative Dates
May 1-2, June 12-13, July 10-11, July 24-25, Aug 21-22, Sept 18-19 & Oct 2-3, 2021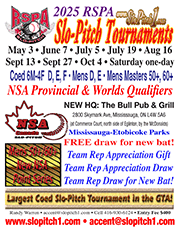 SPN Provincial & National Qualifiers - First place hoodies!
Coed (6M-4F) D, E, F • Mens D, E • Mens Masters 50+
Guaranteed 4 scheduled games all divisions (except Coed F).
Etobicoke-Mississauga Parks - Centennial, Max Ward, Dunton, etc.
Etobicoke-Mississauga - Headquarters: Irish Shebeen Pub
5555 Eglinton Ave. W., Etobicoke ON M9C 5M1 —
map
Free pitcher voucher for every team • Food & drink specials at the HQ bar!
Randy Warren — e-mail preferred:
accent@slopitch1.com
• Cell 416-930-6124
Entry Fee $360.00
•
Tournament Flyer
•
Tournament F.A.Q.
•
Tournament Parks/Map
• Team Rep Appreciation Gift & Appreciation Draw • Team Draws • Free Pitcher •